| | |
| --- | --- |
| Name: | Troy Davis |
| Home: | Ottawa, Ontario |
| Vehicle: | 2014 American Dragster |
| Class: | Super Pro |
| Best E.T.: | 9:60 @ 142mph |
| Pit Crew: | Karen Jessup, Kyle Jessup |
| Sponsors: | |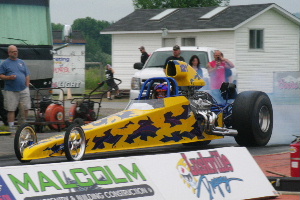 TROY'S first dragster was this 2004
Racetech Softail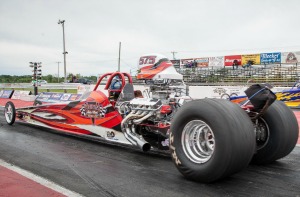 TROY'S second dragster was a Mullis
four link car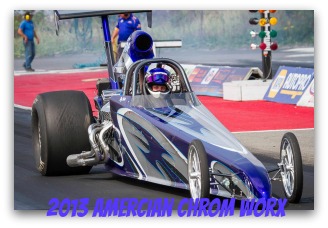 Troy's new ride for 2015 is this

imaculate American swing arm
Quick Facts
1

8 year old Troy Davis grew up in a family devoted to golf and hockey, and that didn't pass Troy bye, an average golfer and a much more than average hockey goalie. In fact Davis who attended St.Pius high school was a sensation for the high school hockey team. But Davisís real love was that of drag racing, he hung out with Derek Malcolm, and when he was old enough began working at Luskville Dragway. At first in the ticket booth handing out time slips to all the drivers he soon grew to admire. In 2001 however he got the chance he was waiting for, Arnie Malcolm owner of A.D.M. Motorsports and Luskville Dragway told Troy he would be given the opportunity to drive the teams 81 Camaro, and drive it he did, finishing third in the track points championship in his first year, and capping the season off with his first victory on closing day 2001. The drivers he once grew to admire, are now admiring him, and his ability to drive a drag car.

UPDATE

2002.

Troy Davis was voted Rookie of the year for 2001 and the annual awards Banquet in January 2002, capping a very impressive debuted season.
UPDATE
2003 Davis had a great 2002 winning his first ever $5000. race at the Kirkland Lake Show Me the Money Tour event, to say it was a wild weekend for the team would be saying it all. 2005 Will see Davis jump behind the wheel of the Teams brand new 1963 Corvette Roadster, and will continue his tenure at Myers as a mechanic. Troy took most of 2007 off to travel to Australia, but his back and will enter the 2008 season in a brand new ADM Motorsports Race Tech Rear Engine Dragster. Wow been a while since we updated this, Davis has continued to race in his third dragster now, with his new ride being a slick 2014 Chrome Worx rear engine car. Still doing his fair share of winning, and still a big part of Luskville Dragway.