Name:

Jason Fletcher

Home:

Pembroke, Ontario

Vehicle:
1985 Mustang
Class:
Semi Pro
Best E.T.:

6.513 (May 18'14) @ 103.49 mph

351W naturally aspirated

Pit Crew:

Tim Fearrey, Andre Fearrey

Sponsors:
2014: Sunsign Graphics, Rem's Autobody, Joe's Family Pizzeria, Mart Performance, D&S Masonry, BLOK Pools, Alder Creek Kennel, The Great Canadian Warehouse Bar & Grill, Law & Orders, Normandeau's Car Care and Bowsey Logistics.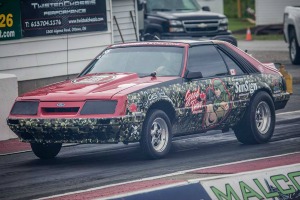 Quick Facts:
Jason started illegal street racing for $$ in Quebec and soon realized that he needs to take his "need for speed" to the track. He started coming to Luskville entering in the street class back in 2010. While having a full time career in the Canadian Armed Forces he was unable to compete as much as he wanted to. While upgrading his street car year after year he entered the track's Semi Pro Points Program for the first time in 2013. He placed in the top 10 and won Rookie Of The Year that year. With the continued support of his pit crew, "Good Time Racing" team evolved. In 2014 his street car became a full time race car with some extensive support from his family, friends & home community sponsors. Good Time Racing now has a second race car in the stables with his pit crew driving that one. He is extremely happy with the results of introducing his pit crew to the racing side of the sport.